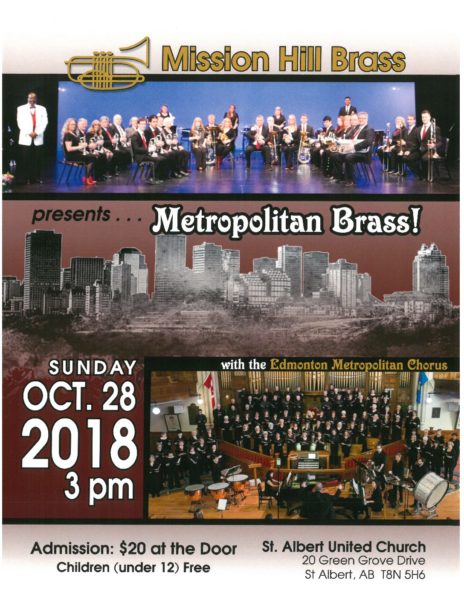 Mission Hill Brass Presents Metropolitan Brass – Sunday, October 28, 2018 at 3:00 PM
Come see the Mission Hill Brass Band perform with the Edmonton Metropolitan Chorus at St. Albert United Church on Sunday October 28 at 3:00 pm!
Admission is $20.00 at the door and is free for children under the age of 12.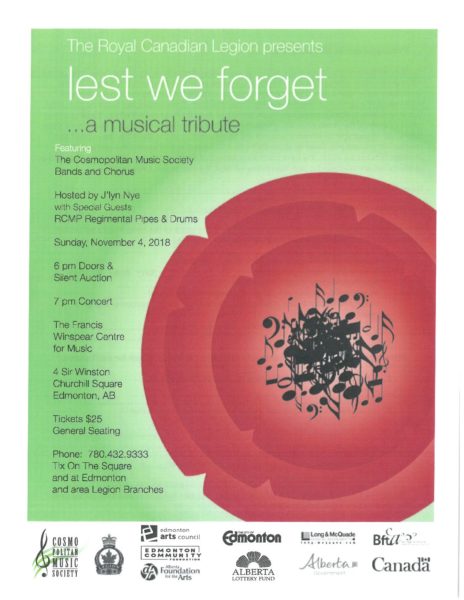 The Royal Canadian Legion Presents Lest We Forget – Sunday, November 4, 2018 at 7:00 PM
Come see The Cosmopolitan Music Society Bands and Chorus perform at The Francis Winspear Centre for Music on Sunday, November 4, 2018.
Doors open at 6:00 pm and the concert begins at 7:00 pm.
Tickets are $25.00 and can be purchased from Tix On The Square or Edmonton and area Legion Branches.